Scholarships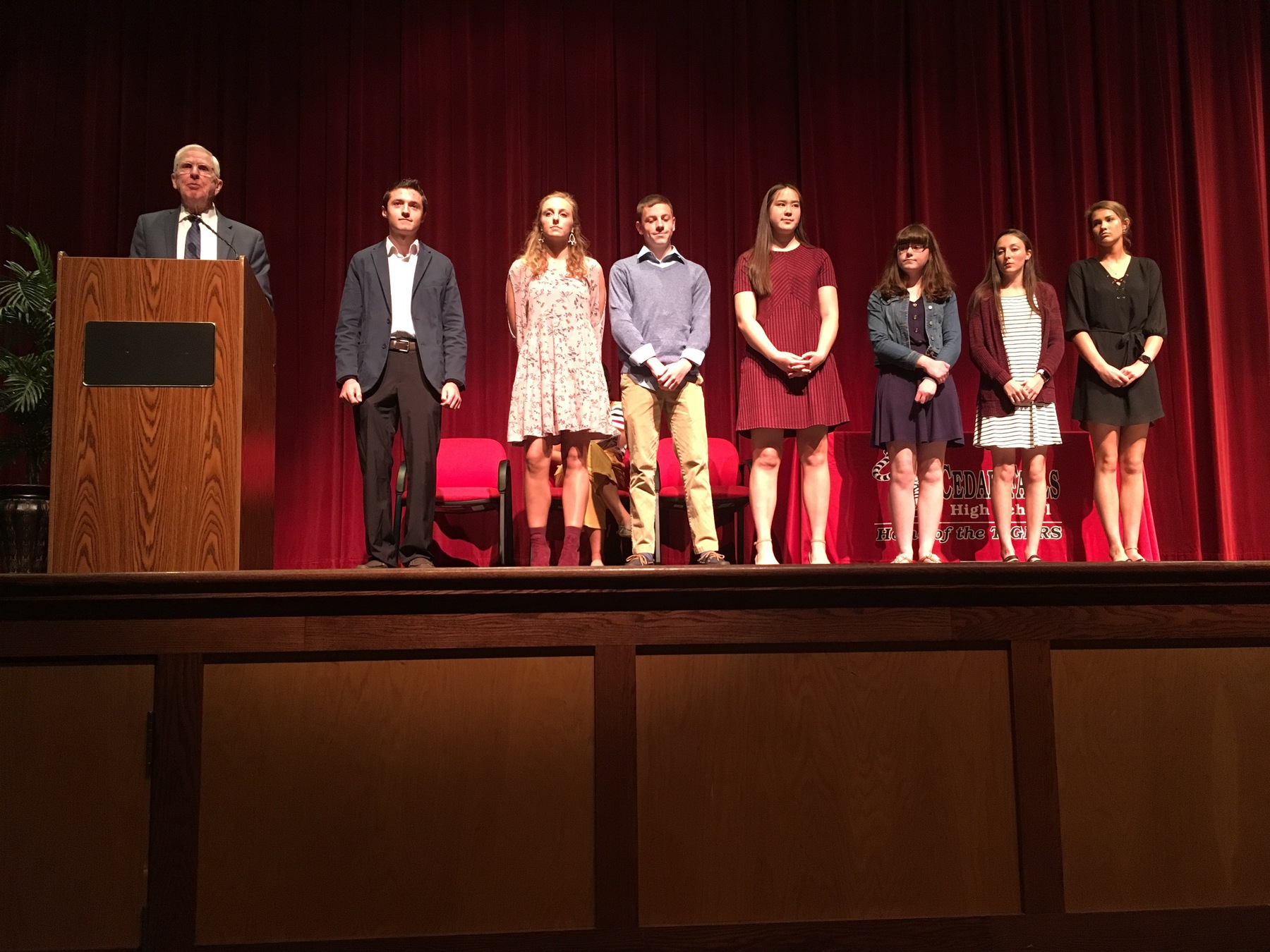 The Cedar Falls Schools Foundation is privileged to manage a number of scholarship funds made possible solely through the generosity of alumni, staff, community members, businesses and organizations.

Scholarships, amounting to $31,000 total, will be awarded to 2022 Cedar Falls graduates at the Honors Convocation event in May and payable to the recipient's college financial aid office in July.
Are you interested in investing in the future of Cedar Falls students? Annual scholarship funds can be created with a minimum gift of $5,000. Contact Monica Boyer, Executive Director at (319) 268-7007 or monica.boyer@cfschools.org for more information.




Bill Close and Ron Streed smARTstart Scholarship
Bill Close and Ron Streed were friends and Art Teachers at Peet Jr. High School. They were both very involved with hands-on art activities during their teaching careers and made each student feel special and proud of their art creations. With the help of students, staff and the community, Bill and Ron created 23 mega sculptures. These giant outdoor sculptures can be found in the book BIG, written by Bill as a pictorial celebration and history of the projects. Award preference is given to a student pursuing an art education degree or who has excelled in the arts.
Fund Type: Annually funded
Bill Ellinger Memorial Scholarship
Bill Ellinger was a 1963 graduate of Cedar Falls High School. He was a student athlete and played football and wrestled. He also participated in an engineering club, then called "JETS." After high school, Bill attended the State College of Iowa, majoring in Business and Industrial Technology. He also served in the United States Air Force as a Medical Lab Technician. Bill worked at John Deere for 39 years before retiring in 2003. Part of Bill's life work was his commitment to community service. Scholarship preference is given to a senior pursuing a technical degree, who has demonstrated community service and inclusive leadership.
Fund Type: Annually funded

Cedar Falls Kiwanis Rough Risers Scholarship
Kiwanis International was created in 1915 to encourage members to give back to their community. Since 1980, the Rough Risers Kiwanis Club of Cedar Falls has been responding to the needs of Cedar Falls and Waterloo. The club's foremost goal is to serve children and youth of their community. The scholarship was originally established in memory of John Scott, a Kiwanian and a long-time employee of Cedar Falls Community Schools, and has since been generously supported by the Rough Risers club. This scholarship recognizes a student with a GPA of 2.75 or higher, who has demonstrated community service and has shown service to others in and outside of school.
Fund Type: Annually funded
Dan and Bea Brown Memorial Scholarship
Bea's sister, Dolores Horn, generously established this scholarship in memory of Dan and Bea. Dolores and Bea grew up in Cedar Falls and didn't have the means to pursue post-secondary educations. Before her passing in twenty fourteen, Bea worked for over 40 years as secretary to the president of Rath Packing. Before his passing in two thousand eight, Dan fought in WWII as a marine and was employed at John Deere. They both traveled extensively and had a great interest in education, young people and the community. Award preference is given to a student who has demonstrated community service and has a grade point average of 2.9 or better.
Fund Type: Endowment
Do Better. Be Better. Scholarship
Jamie Smith, a PE teacher at CFHS suffered a stroke in 2013. Her will to 'Do Better. Be Better.' became her motto as she recovered. The Do Better. Be Better. Scholarship recognizes a graduating senior with a GPA of 2.5 or higher who has overcome adversity with positivity and perseverance or serves as a strong volunteer in their school and community.
Fund Type: Annually funded
Elsa Roberts Memorial Scholarship
Established in memory of Elsa Roberts, a compassionate and caring registered nurse in the Cedar Valley for 33 years. This scholarship is available to a CFHS senior, with preference given to a student pursuing a nursing degree.
Fund Type: Annually funded
Frank and Dorothy Horn Memorial Scholarship
Frank and Dorothy Horn, along with their daughter and her husband, Frankee and Jim Oleson, established this scholarship to assist aspiring educators as they pursue their goals. The Horn's understood the importance of education and spent 28 years contributing to the Cedar Falls Community School District. Dorothy taught at Cedar Heights, first as a substitute teacher, then as a reading teacher and finished her career as a 2nd grade teacher. Frank served as Peet Jr. High's first principal, became the Business Manager for the District, and ended his career as a 7th grade social studies teacher at Peet Jr. High. Award preference is given to a senior pursuing a degree in preK-12 education.
Fund Type: Endowment
Kathy Bunger Memorial Scholarship
Before her passing in twenty thirteen, Kathy provided enormous strength and support for cancer patients and raised money and awareness for cancer research and education. She did this using her positive attitude and her own personal experiences with cancer. The Bunger family created this scholarship based on the belief that to truly be successful, one should always give back to those in need. Scholarship preference is given to a senior who has dealt with a critical illness of a parent or demonstrated community service.
Fund Type: Endowment
Kristine Martinson & Family Scholarship
Kristine Martinson was a lifetime resident of the Cedar Valley. She married her high school sweetheart, David, in 1990 and worked as a nurse until 1995. Their four children – Jonathan, Andrea, Daniel and Annaliese – attended or are attending Cedar Falls Community Schools. This scholarship is awarded to a student pursuing a nursing or medical degree.
Fund Type: Annually funded
Lauterbach Family Scholarship
These scholarships were generously made possible through a gift from the Kenneth and Maureen Lauterbach estate. The Lauterbachs were long-time residents of Cedar Falls, active in the community and members of St. Patrick's Catholic Church. Maureen had a strong desire to get a college education, but because of a combination of lack of funds and expectations for women at the time, she was unable to complete college. This scholarship is available to female seniors, with preference given to students pursuing post-secondary education at a 4-year institution in the state of Iowa who have demonstrated community service.
Fund Type: Endowment
Legacy of Learning Scholarship
Established by the Class of 1963, with additional contributions from the classes of 1954, 1959, 1980, 1990 and 2000, this scholarship is available to a CFHS senior, with preference given to a student who has been a good citizen and has demonstrated community involvement.
Fund Type: Endowment
MIRAE (Multicultural Individuals Revered Among Educators) Scholarship
MIRAE's purpose is to recruit and develop multicultural high school students into public education for future employment. This scholarship is given to a multicultural student pursuing a degree in preK-12 education who has completed a semester of the CAPS Education program.
Fund Type: Annually funded
Robert and Hazel Messer Scholarship
During his career with Cedar Falls schools, Bob Messer was an unselfish, tireless leader who aspired to bring out the best in his students and staff. He led with honesty and integrity as the principal of Peet Jr. High until his retirement. Hazel, also an educator, was a long time reading teacher for the Waterloo schools. When Bob passed away in twenty fourteen, Hazel established this scholarship in his memory and in honor of their careers in our schools. Award preference is given to a student who has displayed citizenship and has a grade point average of 3.0 or higher.
Fund Type: Endowment

Ronald E. Juhl CAPS Scholarship
Ronald Juhl, a 1959 graduate of Cedar Falls High School, established this scholarship out of gratitude for the teachers who made an impact on his life. Award preference is given to a student who has successfully completed at least one semester in the Cedar Falls Center for Advanced Professional Studies or CAPS program, with an emphasis on students pursuing training in a construction or trades field.
Fund Type: Endowment
Rick VerHeul Memorial Scholarship
Rick's brother, Jeff VerHeul, generously established this scholarship in memory of Rick. Rick was a nineteen seventy-five graduate of Cedar Falls High School. During high school, Rick was a first-team all-state swimmer and football player and was involved in band. Award preference is given to a student athlete.
Fund Type: Annually funded
Sandy Remmert Memorial Scholarship
Sandy Remmert was an English teacher at Cedar Falls Schools until her retirement in two thousand one. Award preference is given to a student pursuing a degree in English education or education.
Fund Type: Annually funded
Todd Blanford Memorial Scholarship
Established in memory of Todd Blanford, a 1976 graduate of CFHS and lifelong Cedar Falls resident. Todd attended the University of Northern Iowa, then spent thirty years in the mortgage and real estate industry, helping hundreds of Iowans obtain their first homes. This scholarship is available to CFHS senior, with preference given to a student attending UNI.
Fund Type: Annually funded