Scholarships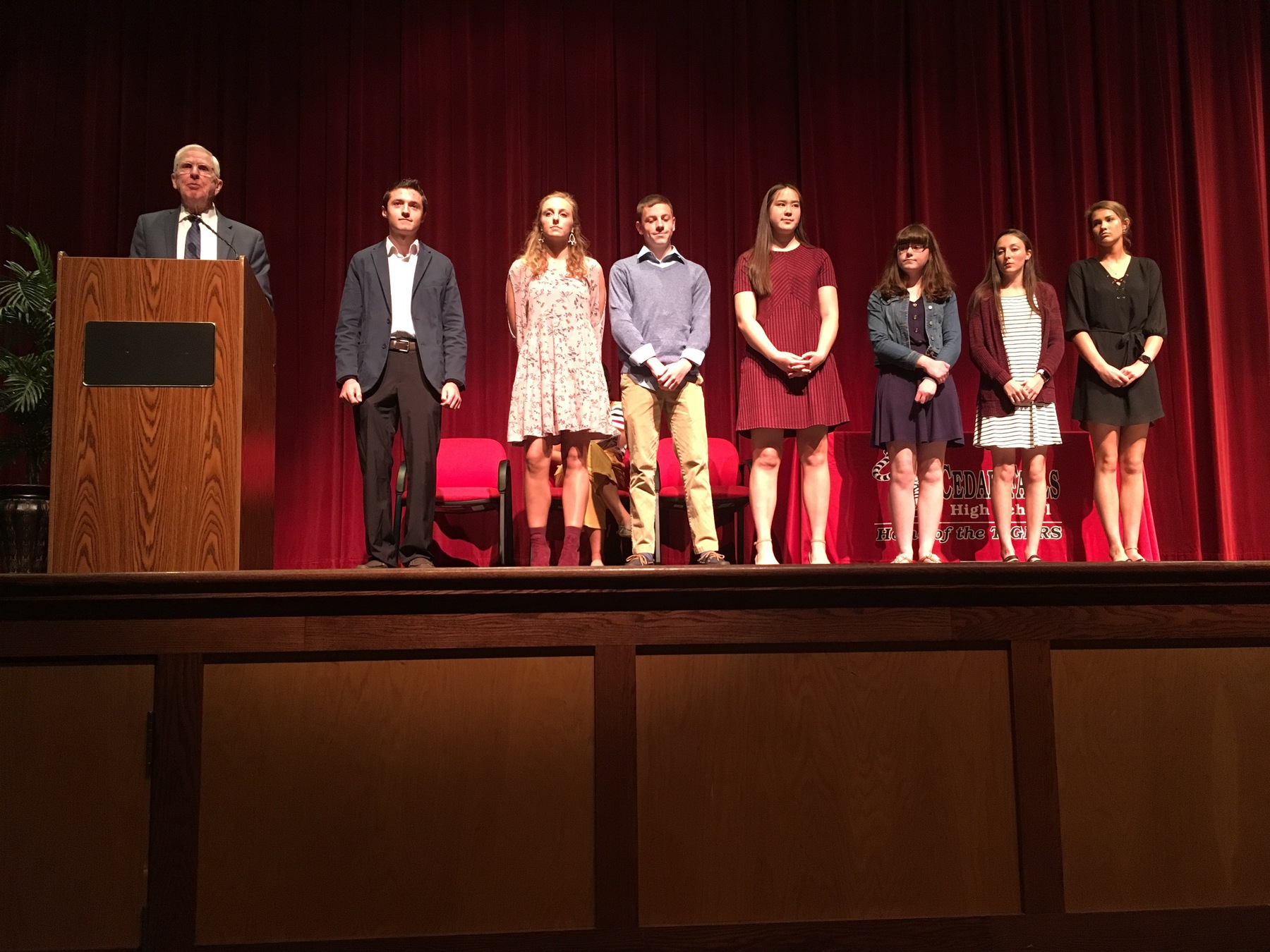 In 2020, 12 scholarships were awarded to graduating seniors. Combined with renewed scholarships, 21 CFHS graduates will receive Foundation supported scholarships in the fall of 2020 because of the generosity of the donors listed below.


Bill Close and Ron Streed smARTstart Scholarship
2020 recipient: Rachel Brokenshire
Bill Close, a retired Peet Jr. High art teacher, and Crit Streed, wife of the late Ron Streed, established this scholarship in memory of Ron, and in honor of the mega sculptures Bill and Ron created with their students. Both Bill and Ron were very involved with hands-on art activities during their teaching careers, reaching out to make each student feel special and proud of their art creations. The book BIG, written by Bill as a pictorial celebration and history of the mega sculptures built each year at Peet Jr. High, celebrates students, Peet staff, and the community that were involved during their design and creations. Through the generosity of Crit, Bill, and donations made through the purchase of Bill's book, this scholarship is available to a CFHS senior planning to pursue an art education degree after graduation.
Bill Ellinger Memorial Scholarship
2020 recipient: Logan Clements
This scholarship was made possible by the many generous donations to Bill's memorial fund after his passing in 2019. Bill was a 1963 graduate of Cedar Falls High School, graduating in the top 5% of his class. During high school, Bill was also a student-athlete and participated in an engineering club, then called "JETS." After high school, Bill attended the State College of Iowa and served in the United States Air Force before settling in Waverly. Bill then worked at John Deere for 39 years before retiring in 2003. Part of Bill's life work was his commitment to community service.
Cedar Falls Kiwanis Rough Risers Scholarship
2020 recipient: Justine Yang
This annual scholarship is awarded to a graduating senior at Cedar Falls High School. The candidate must be a student that has been involved in community service in and outside of the school and must be a good citizen of the school community and the community of Cedar Falls. Candidates must have a grade point average of 2.75 or better. The Kiwanis Club especially encourages students who have not received other "academic" scholarships to apply: service-to-others rather than scholarly efforts are the primary basis for this award.
Kiwanis International was created in 1915 to encourage members of the community to give back to their community. Since 1980, the Rough Risers Kiwanis Club of Cedar Falls has been responding to the needs of the communities of Cedar Falls and Waterloo. Members come from all walks of life and share a hearty can-do attitude about the projects of the club. The club's foremost goal is to serve the children and youth of the Cedar Falls community.
Dan and Bea Brown Memorial Scholarship
2020 recipient: Mallory Welsch 
2nd, 3rd & 4th year recipients: Jaxon Mabon, Aubrey Norman, Allison Eagan
This scholarship was generously established by Dolores Horn in memory of Dan and Bea Brown. Dolores and her sister Bea grew up in Cedar Falls and did not have the means to pursue post-secondary educations. Before her passing in 2014, Bea worked for over 40 years as secretary to the president of Rath Packing. Before his passing in 2008, Dan fought in WW II as a marine and was employed at John Deere. They both traveled extensively and had a great interest in education, young people and the community. The annual scholarship is available to the recipient for four years, provided the recipient maintains a grade point average of 2.0 on a 4.0 scale.
Do Better. Be Better. Scholarship
2020 recipient: Madison Nannenga
This scholarship was generously established by Jamie and Patrick Smith, after Jamie suffered a stroke in 2013. Her will to 'do better, be better' became her motto as she recovered through months of therapy. Jamie is a physical education teacher at CFHS who is awarding this scholarship to students who recognize that choices made today will affect their tomorrow.
Frank and Dorothy Horn Memorial Scholarship
2020 recipient: Piper Victoria 
Frank and Dorothy Horn understood the importance of education and spent 28 years contributing to the Cedar Falls Community School District. Dorothy taught at Cedar Heights, first as a substitute teacher, then as a reading teacher and finished her career as a 2nd grade teacher. Frank served as Peet Jr. High's first principal, became the Business Manager for the District, and ended his career as a 7th grade social studies teacher at Peet Jr. High. Frank and Dorothy, along with their daughter and her husband, Frankee and Jim Oleson, established this scholarship to assist aspiring educators as they pursue their goals.
Kathy Bunger Memorial Scholarship
2020 recipient: Skylar Boerhave
This scholarship was generously established in Kathy Bunger's memory by husband Sid Bunger, and daughter and son-in-law Shannon and Bob Closson. Before her passing in 2013, Kathy provided enormous strength and support for cancer patients and raised money and awareness for cancer research and education. She did this using her positive attitude and her own personal experiences with cancer. The Bunger family created this scholarship based on the belief that to truly be successful, one should always give back to those in need.
Lauterbach Family Scholarship
2020 recipients: Rachel Brokenshire & Jessica McDowell 
2nd, 3rd & 4th year recipients: Grace Considine, Katelyn Walgren, Shaffer Kirschenmann, Dayna Schuur, Madison Dempster, Emily Fishel
These scholarships were generously made possible through a gift from the Kenneth and Maureen Lauterbach estate. Recipients must be female students of high moral character and financial need, pursuing a four year degree at a state or private school for higher education within the State of Iowa. The scholarship is available to chosen recipients for four years, provided the recipient maintains a grade point average of 2.7 on a 4.0 scale.
Legacy of Learning Scholarship
2019 recipient Megan Pezley (this scholarship is awarded once every three years)
Established by the Class of 1963, the Legacy of Learning scholarship is awarded to a student that has been a good citizen in the community and has demonstrated community involvement in the Cedar Falls area.
Robert and Hazel Messer Scholarship
2020 recipient: Devin O'Loughlin
During his career with the Cedar Falls schools, Bob Messer was an unselfish, tireless leader who aspired to bring out the best in his students and staff. He led with honesty and integrity as the principal of Peet Jr. High until his retirement. Hazel, also an educator, was a long time reading teacher for the Waterloo schools. When Bob passed away in 2014, Hazel established this scholarship in his memory and in honor of their careers in our schools.
Ronald E. Juhl CAPS Scholarship
2020 recipients: Madisen Doeden & Alydia Tyler 
Ronald Juhl, a 1959 graduate of Cedar Falls High School, has generously provided funds for this award, presented annually since 1999. It is given to a Cedar Falls High senior who has successfully completed at least one semester of the CAPS program at CFHS.