Supporting our students ...
and connecting you with the Cedar Falls Community Schools


---
Cedar Falls Schools Foundation Announces New Board Members

The Cedar Falls Schools Foundation (CFSF) Board of Directors is pleased to announce the appointment of five new Board Members – Helen Pearce, Tracy Mudd, Tanner Marshall, John Runchey and Katie Johnston. Ms. Pearce is a 1969 graduate of Cedar Falls High School and is the President/CEO at Cedar Falls Community Credit Union. Ms. Mudd's two children have attended Cedar Falls Community Schools (CFCS). She is a realtor at Structure Real Estate. Mr. Marshall is a 2006 graduate of Cedar Falls High School and his mother is a recent retired CFCS teacher. He is the Director of NE Iowa Sales for POS Professional Office Services, Inc. Mr. Runchey is the retired owner of Northern Iowa Construction Products and a retired city council member. His four children attended CFCS. Ms. Johnston is the principal at North Cedar Elementary.
The Foundation Board of Directors includes community members and district appointments. Current standing community board members include: Alan Bernard, Dave Deaver, John Jorgensen, Jennifer Onuigbo, Vickie Robinson, Janelle Smeins and Jim Sprau. The appointed district board members include: Eric Rosburg, Jeremy Swanson, Megann Tresemer, and Susie Hines. Ex-officio members are Dr. Andy Pattee, CFCS District Superintendent and Denelle Gonnerman, CFCS Director of Business Affairs. Dave Deaver (President), Vickie Robinson (Vice-President), Alan Bernard (Treasurer) and Jennifer Onuigbo (Secretary) will serve as the 2019-2020 Executive Board.
Monica Boyer, Executive Director, stated, "We're honored to have the guidance and vision of all our board members. CFSF Board Members are volunteers who give their time, talents and treasure to support every student, every day."
Since its inception in 2007, contributions from individuals, businesses and grants have helped the CFSF establish scholarships and grants, assist programming and champion teacher professional learning. The CFSF is an Iowa nonprofit corporation for the sole benefit of the CFCS District and is exempt from federal income taxation under Section 501(c)(3) of the Internal Revenue Code.
---
Wal-Mart Foundation Supports Cedar Falls Schools Foundation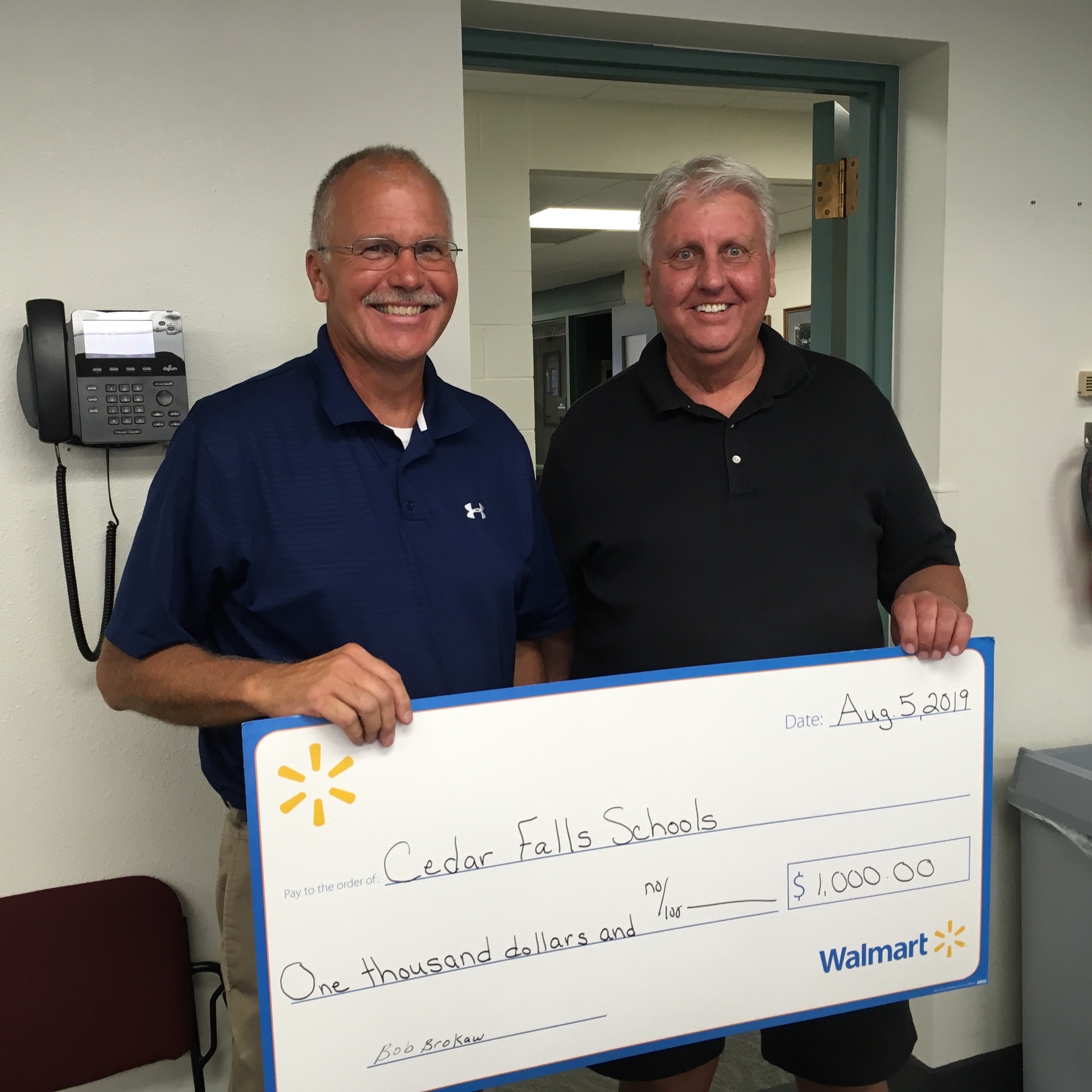 Cedar Falls Wal-Mart Store Manager Bob Brokaw presented a $1,000 grant on behalf of the Wal-Mart Foundation to Cedar Falls Schools Foundation Board President Dave Deaver. This grant will be used for classroom supplies.
---
Cedar Falls Schools Foundation Announces New Executive Director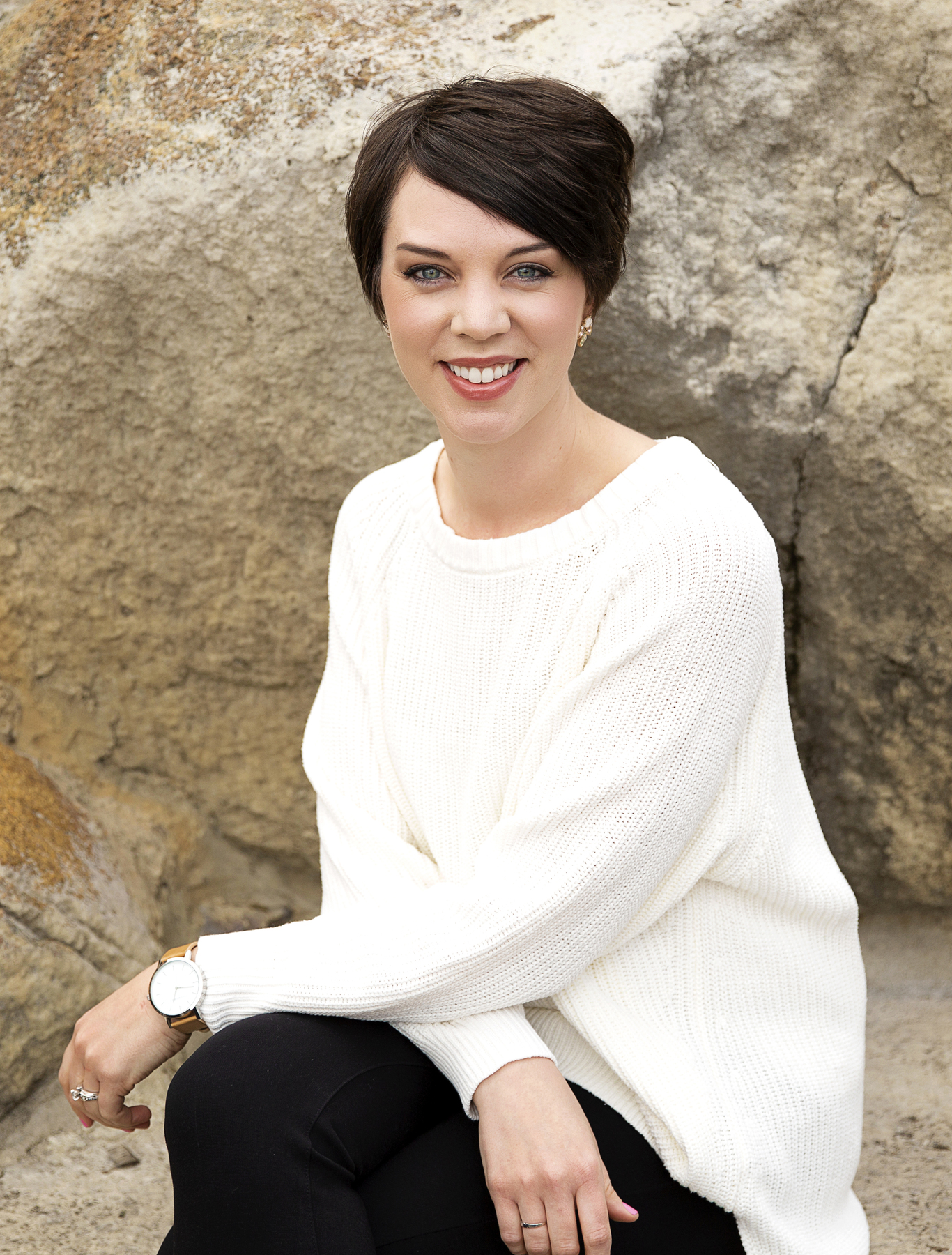 Monica Boyer has joined the Cedar Falls Schools Foundation (CFSF) as its Executive Director. The CFSF was established to enhance "A Tradition of Excellence" and support the Cedar Falls Community School District by generating resources and advocating for quality public education.
"Cedar Falls is a great community, and Cedar Falls Community Schools certainly add to its vibrancy. We're a fortunate community to have such an impressive school system focused on developing students to their greatest potential," stated Monica. "This Foundation was started by an incredible group of individuals who care deeply about our youth and our educators. It's been the work of countless volunteer hours that have brought the Foundation to where it is today. To be trusted to keep expanding those efforts is an honor."
Founding Board Member and past Executive Director Susan Lantz has retired after thirteen years. "We applaud Susan for her years of contributions to the Foundation and welcome Monica," said Dave Deaver, CFSF Board President.
Originally from Lawler, Iowa, Monica earned a Bachelor of Fine Arts degree from Iowa State University in 2009. Prior to joining CFSF, Monica served as the Marketing Specialist at Waverly Health Center for eight years. Monica resides in Cedar Falls with her husband, Joey and children, Adalynn (5) and Claire (3).
---
Thank You Lincoln Savings Bank Foundation!

Thank you to the Lincoln Savings Bank Foundation for their very generous gift for the high school CAPS program!
Thanks to LSB's support, CAPS is growing. LSB is helping to connect our businesses with our students as they work together to enrich our students' futures. Since the CAPS program was initiated three years ago, four strands have been developed in partnership with our community: the medical strand with Allen Hospital, the engineering strand with Viking Pump, the communication and design strand with UNI's Business and Community Services, and the education strand with UNI's College of Education.
With support from partners like Lincoln Savings Bank, CAPS will continue to grow, providing personalized learning experiences for educating the workforce of tomorrow.
---
Thank you Collins Community Credit Union!

Our Foundation was recently surprised by Collins Community Credit Union with a generous grant award.
Third generation Cedar Falls grad Tom Blanford stopped by to make the presentation - his father Todd was a 1976 grad and his grandmother June Marcussen was a graduate in the '50s. Thank you Tom and CCCU, for your commitment to continuing the educational opportunities available to our students.
The award was presented to Andy Pattee, CFCS superintendent, Floyd Winter, Foundation past president, and Dave Deaver, Foundation president, by Tom Blanford, CCCU commercial banking manager, Steve Kimball, CCCU assistant branch manager, Amy Lin, CCCU small business lending manager and Emily Routier, CCCU member service consultant. Thank you for your outstanding partnership and dedication to our students!
---
Thanks to the generosity of your gifts, we made 13 surprise classroom visits in November to award grants to 65 teachers!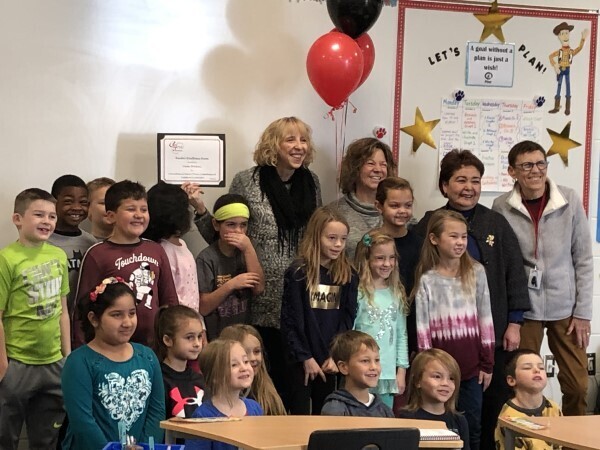 Click on the photo to learn more about this year's grant recipients.
---
Thank You For Your Gifts!
Our students are reaping the benefits from the extraordinary partnerships we have with our generous donors.
Our Foundation's goal is solely to provide support for our district, where all students can thrive and achieve academic excellence. All of our efforts are directed toward connecting our students with our communities, as we collectively support their learning experiences.
Thank you for helping us support these experiences, and our District teachers and staff, as they lead each and 'every student, every day'!
---
Hats Off to CAPS Supporters!
The Center for Advanced Professional Studies (CAPS) is expanding the professional business opportunities available to our students this fall, thanks to our donors' gifts. Without the generosity of the Waschek Family, Viking Pump, Far Reach, Hawkeye Community College, CFNEIA, UNI and the many gifts from individual donors, this collaborative program between our business community, our school districts and our students would not be possible.
Thank you!
---
Connecting Our Students
connect>CF, a partnership program between Cedar Falls Utilities and our schools, gives families that currently can't afford home internet service the opportunity to connect at a lower cost. Our generous donors, community service organizations and local businesses are helping eliminate the 'homework gap' many of our students face each day. Thank you to Dalton Plumbing, Heating & Cooling, Kryton Engineered Materials, Veridian Credit Union, Cedar Falls Walmart, Rotary Club of Cedar Falls, Viking Pump, Cedar Falls Lions Club, and our very generous individual donors for recognizing this need and making a difference!
---
Sarah and Lilly Explain How You Can Help
---
  Download Our Brochure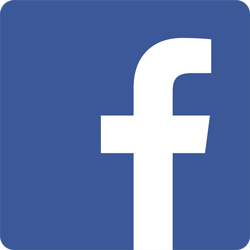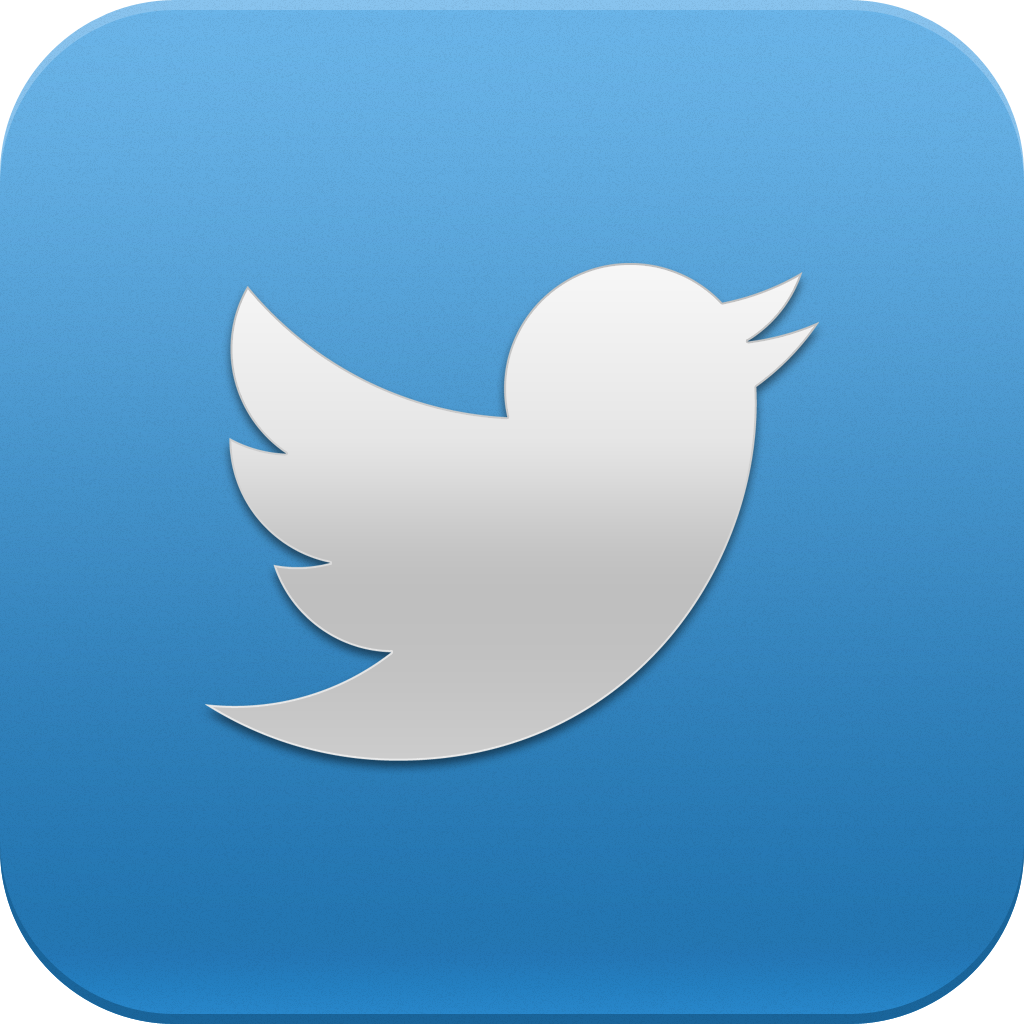 Receive Our Newsletter
The Cedar Falls Schools Foundation was established to enhance "A Tradition of Excellence" and support the Cedar Falls Community School District by generating resources and advocating for quality public education. There are many ways you can help the Cedar Falls Schools Foundation make an impact:
Donate online or through the mail to the Cedar Falls Schools Foundation
Join the CFCS Alumni Network
Establish a grant or scholarship
Sponsor a CFS Foundation event or campaign
Build or contribute to an endowment fund
Include the CFS Foundation in your estate plans
Give a donation of stocks or bonds
Give to the annual Tradition of Excellence campaign
Volunteer to assist with an event or campaign
Volunteer on a Foundation committee (call us or mail this form)
Get in Touch
Cedar Falls Schools Foundation
602 Main Street
Cedar Falls, Iowa 50613
Phone: (319) 268-7007
E-mail: foundation@cfschools.org
The Cedar Falls Schools Foundation is an Iowa nonprofit corporation for the sole benefit of the Cedar Falls Community School District and is exempt from federal income taxation under Section 501(c)(3) of the Internal Revenue Code./