Thursday, February 07, 2019
Student Groups Update!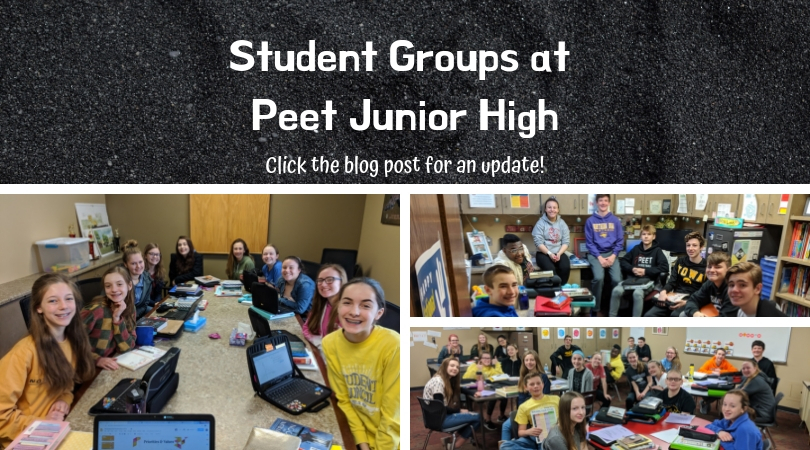 LEAD: Photo to the left: Our girls leadership planning team has switched gears from planning out LEAD (Loving Everything About Differences) each week to now working towards the completion and implementation of the 7th grade girls presentation. These girls take ideas from current 7th graders on relevant and meaningful topics, and then, add personal stories and discussion questions to make this presentation geared towards large group share-out and small group discussion and application! This is our 5th year implementing this presentation to our target group of 7th grade girls! Over these last four years, we have utilized the leadership of over 50 girls to run this student-led initiative! This year's topics are respect for self & others, self-confidence, decision-making, peer pressure, priorities and values. Our group is looking forward to this at the end of April!


8th and 9th grade leaders: Top right photo: We have had some 8th and 9th grade student leaders step up and want to provide a workshop for our 7th grade boys! This presentation will model after our very successful 7th grade girls presentation where we have some teachers and students share-out as a large group format with small group discussion. This event will happen at the end of April.


Student Council: Bottom right photo: Student Council has a busy spring semester! We are gearing up for our 4th year in implementing April Awareness where we discuss relevant topics that help bring awareness and reflection to teens and reduce stigma on certain topics! We will have two more elementary readings in Kindergarten classrooms! Every Spring, we also host a staff appreciation breakfast where we get to shower our staff with good food and positive encouragement! We have an upcoming leadership conference at UNI where some of our 7th and 8th grade student council members will attend, as well as Visit The Hill Day in Des Moines where our 8th and 9th grade student council members will attend and meet with local and state legislators and learn more about advocacy!