Monday, October 30, 2017
Parent-Teacher Conferences: Click Here
Parents and Guardians:
You are invited to attend Parent‑Teacher Conferences on October 30 & November 2.
---
The schedule for conferences is as follows:
MONDAY, OCTOBER 30 – 3:30-7:30 PM
THURSDAY, NOVEMBER 2 – 3:30-7:30 PM
There will be NO classes for students on Friday, November 3.
---
Report cards will be distributed in the Front Entrance Hallway. Teachers will be located in the new gym.
Please limit conference time to not more than FIVE minutes with each teacher.
Note the schedule listed below is for part‑time/traveling teachers.
ALL OTHER TEACHERS WILL BE HERE FOR EACH CONFERENCE SESSION.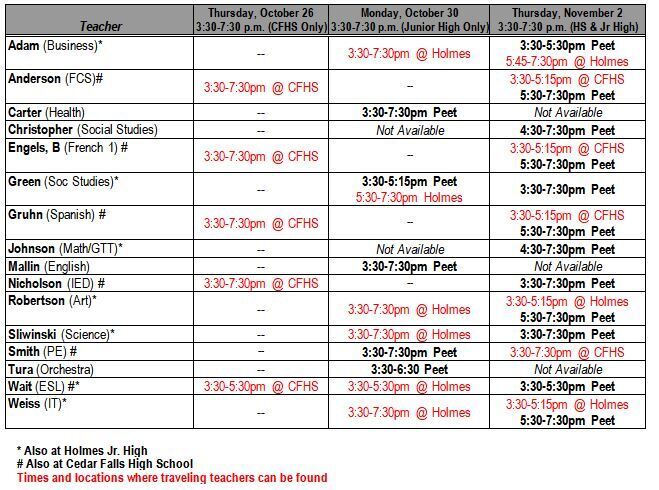 ALSO – Peet students enrolled in classes at Cedar Falls High School – teachers will be available to meet with parents during conference time AT THE HIGH SCHOOL.
We look forward to your attendance at conferences. If you have questions, please call the office (553-2710).
Conference - gym map Fall 2017.pdf
Conference schedule - Fall 2017.pdf