Friday, February 09, 2018
Cedar Heights Read-a-Thon Information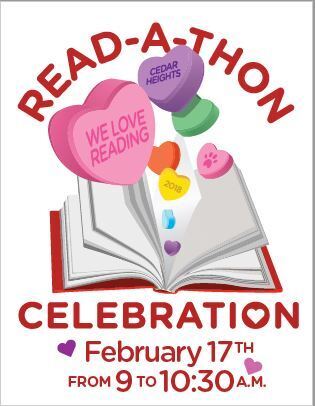 Our very first Read-a-Thon is off to a terrific start! As of Friday, February 9 we have raised over $7,000 for our PTU. Our Fundraiser will end on February 16, so students can continue to collect donations and get their minutes read until then. Please remind your students to log their minutes!
As this is our first Read-a-Thon, we are learning several things along the way. We would like to address a couple of things that have come up as we finish out our first week:
The maximum number of minutes a student can enter for a single reading session is 120 minutes. If your student reads more than 120 minutes, they will need to add additional sessions. There does not appear to be a limit on the number of reading sessions a student can enter in a day.
Students can count minutes when they are being read to, in addition to minutes that they read independently. So gather up the kids, get a cozy blanket, and enjoy a book together as a family!
As a reminder, we have prizes for top readers, as well as prizes for students as they raise money: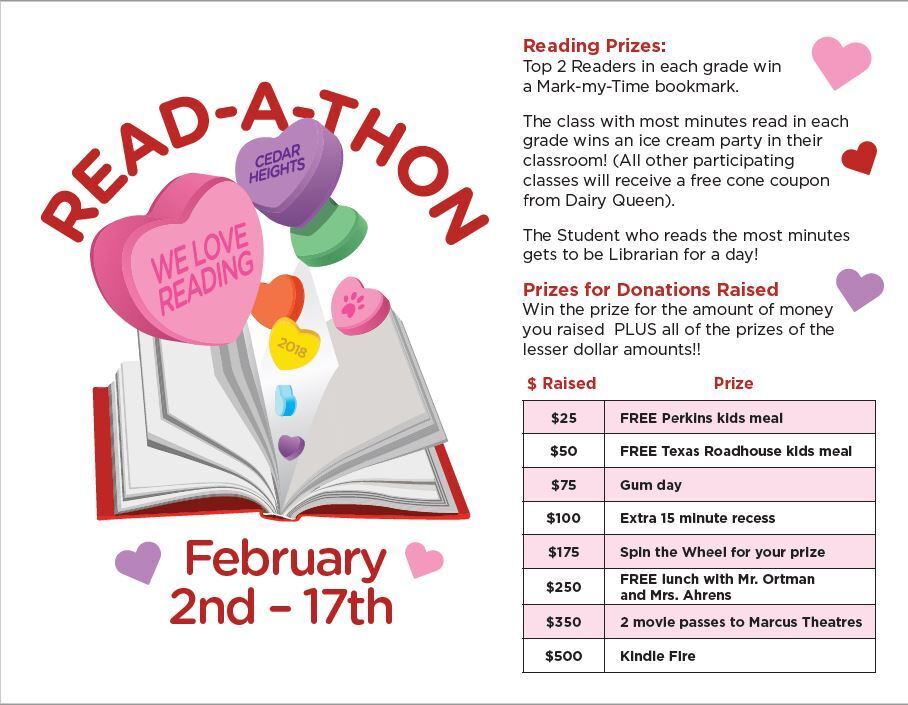 We are very excited to wrap up our Read-a-Thon Fundraiser with our very first Read-a-Thon Celebration! This will be held on Saturday, February 17 from 9-10:30 a.m. We invite you to bring the family, come in your pajamas, and join the fun! Here's what we have planned for the morning:
Door prizes that you can enter to win when you come in (you do not need to be present to win)
Light breakfast refreshments
Space in the gym for families to sit and read. Bring your blankets, pillows, and cozy stuff to enjoy some reading time together!
Story times in the library with Mrs. Ahrens
Book Swap: Got some gently used books that your kids have outgrown or just weren't into? Bring them to the celebration, and they can swap them for other books. However many books you bring with you, you get to take that many new to you books home!
Author visit! We are so excited to have Kate Riggs, a published author come to visit us. Ms. Riggs will be doing readings of her books, book signings, and talking to our students about writing. We hope you can come and meet a great author with a Cedar Heights connection.
We would like to thank our families, teachers, and students for supporting our first ever Read-a-Thon. We would also like to thank our sponsors for their generous donations, which made a lot of our event possible:
| | | | |
| --- | --- | --- | --- |
| Next Gen Wireless | Nicole Knebel with Gershman Mortgage | Dairy Queen on University Avenue | Waterloo Perkins |
| Well & Far Designs | Sarah's Personalized Gifts | Stuff Ems Toy Shop | The Core Comics and Games |
| Home Depot | Texas Roadhouse | Litographs | Hansen's Dairy |
| Sidecar Coffee | Dunkin Donuts | HyVee | Martin Brothers |
| The Creative Company | Barnes & Noble | University Book & Supply | Culver's |
| Fareway | Marcus Theaters | Veridian Credit Union | Cedar Heights Presbyterian Church |
| Waterloo Black Hawks | Chuck E. Cheese | Panera Bread of Iowa | |
This is going to be a great event, but we could use some volunteers to make it really terrific! If you are able to give an hour of your time, we would appreciate it. You can sign up to volunteer for our Read-a-Thon Celebration here.
We hope to see all of our families at our celebration!!