Friday, February 02, 2018
Read-a-Thon Begins February 2!
Cedar Heights is hosting our very first Read-a-Thon! Our Read-a-Thon is a fundraiser for PTU. The funds will be used to help purchase new playground equpment, instructional supplies, and the funding of teacher grants.
The Read-a-Thon is a really easy fundraiser! Students should set up their fundraising page (instructions went home earlier this week), send the fundraising page information to friends and family, and get ready to read! Students will have from after school on February 2 to the end of the day on February 16 to read as many minutes as they can, and log their minutes on their fundraising page.
Students can win prizes for both reading and raising money: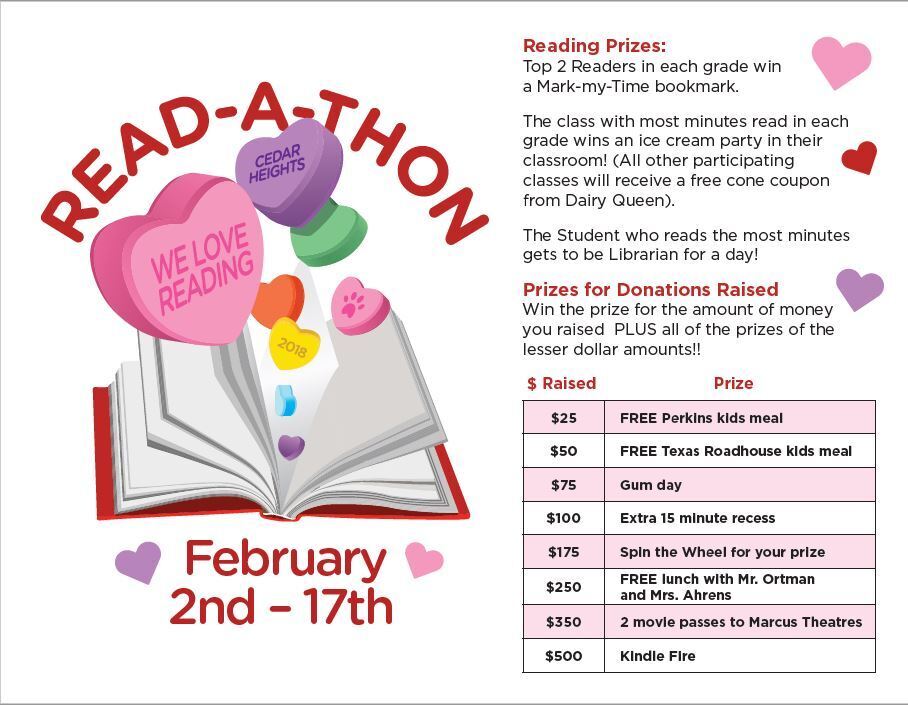 To celebrate the end of our Read-a-Thon Event, we will be having a special celebration on Saturday, February 17, from 9-10:30 in the morning. We will have breakfast treats, reading space for our families to share, story times in the library, a book swap, and a visit from a published author, Kate Riggs! We hope you and your families can come and join in the fun!
We are very excited about this new fundraisier. If you have any questions, please feel free to contact our teacher-librarian, Tiffany Ahrens at Tiffany.Ahrens@cfschools.org.
Let's get ready to read!!