Thank you to our #Tigerpride Sponsors!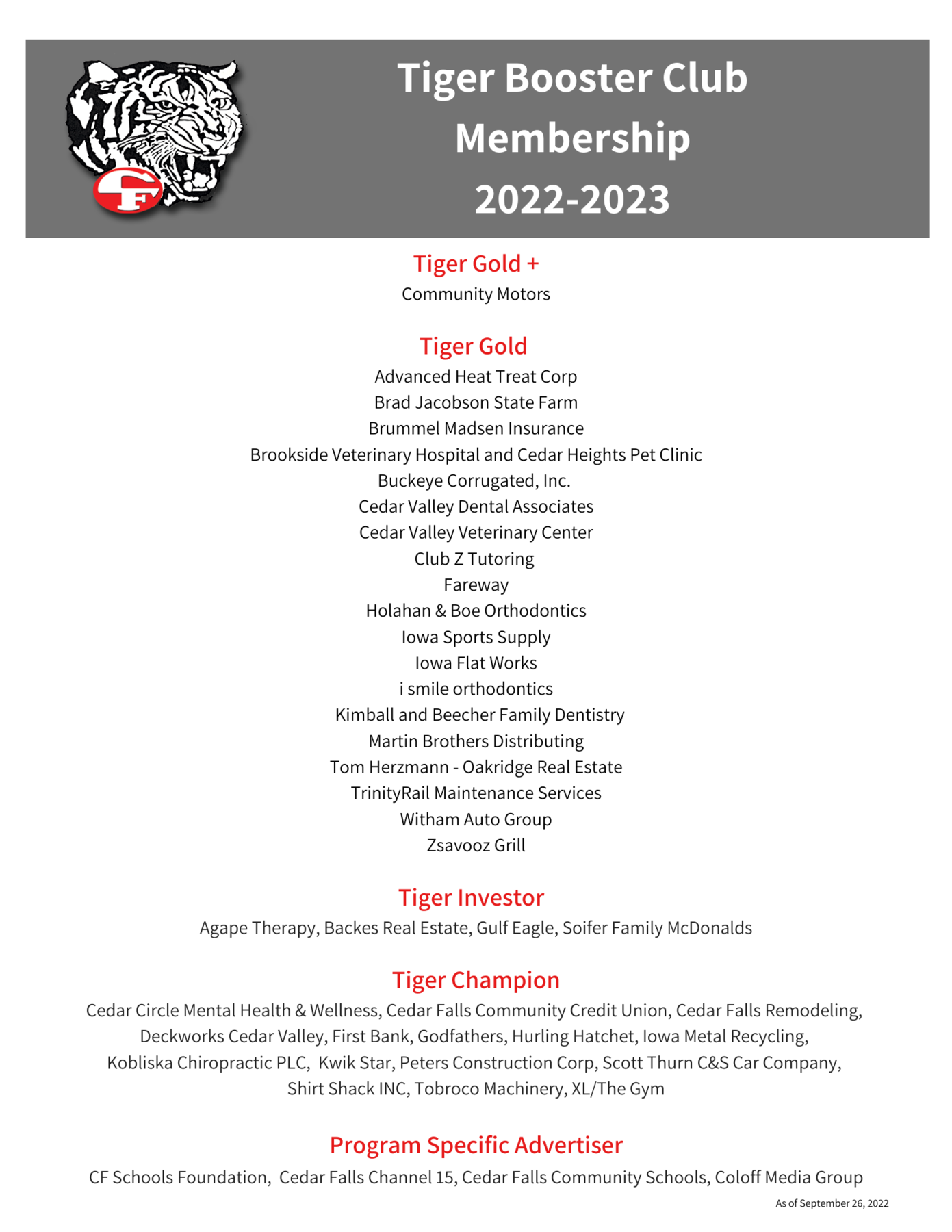 WHO WE ARE: 
The Cedar Falls Tiger Booster Club is a non-profit 501c3 organization with the sole purpose of supporting the athletic programs at CFHS, Peet Jr. High and Holmes Jr. High. Now in its 47th year, the Club is one of the largest booster clubs in the state. 
Our students are the heart of the club. With about 2600 students - 7th to 12th grade - and 85% participating in extracurricular activities - those 2200 students are engaging above and beyond their academics. When you join the Booster Club, your membership supports #TigerPride students. 
District activity/athletic passes are sold by the Booster Club to any individual (residence or location does not impact purchase). Student passes (K-6 grades) can be purchased through the Booster Club. Junior and Senior High School passes are sold by the District as these are linked to the student identification card. 
Passes are good for all 7th to 12th grade home, regular season games including select music and theatre productions. 
Need to contact us, reach us at: cfathleticsboosters@cfschools.org
Booster Leadership for 2022-2023
Susie Hines, President

Chad Herrick, Vice-President

Kathy Grete, Secretary

Yvonne van de Camp, Treasurer
Learn more about the Boosters at: Booster Club Info.pdf
Thank you to all our sponsors and community members!2021-2022 Membership. 
Need information on #TigerPride Fan Guidelines, visit the CFHS Athletics page. 
#TigerPride E-Newsletter: Subcribe
There are several ways to support Tiger Athletics! 


 JOIN the Boosters! For check payment, complete the brochure information or use this link. For credit card payment, join here. 

ADVERTISE with the Boosters. Check out our #TigerPride Program and all our Sponsors! 

PURCHASE photos from the Tiger Gallery

ATTEND one of the many sporting events, check out MVC RST and Varsity Bound and make sure you download the FREE apps! 
Mission statement: The mission of the Tiger Booster Club is to instill Tiger Pride in all students, staff and the community of Cedar Falls by providing time, talents and treasures (financial support) to junior and senior high athletics.
The Cedar Falls Tiger Booster Club is a non-profit organization pursuant to Section 501(c)(3) of the United States Internal Revenue Code. Your donation may qualify for an income tax deduction in accordance with Federal and/or State income tax laws. Please consult with your tax adviser to determine whether your donation is tax deductible in whole or in part. Nothing in this communication is intended to constitute legal or tax advice.
Revised March 2022: Specific to any single donation of $250 or more, the donor will receive an acknowledgement for their records noting that no goods or services were given in exchange for the contribution. For dollar amounts below $250, the donor should request a letter at: cfathleticsboosters@cfschools.org
1015 Division Street
Cedar Falls, IA 50613
Follow Cedar Falls High School