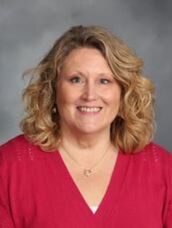 Darla Striegel
Teacher Librarian

North Cedar Elementary

Role: Teacher
Department: Library

Elementary
Building Technology Integration Leader
I am excited to serve the PK-6 students at North Cedar Elementary School as their Teacher Librarian. I also have the privilege of assisting and teaching several sections of Southdale students one day of each 6-day cycle.
I have been a Teacher Librarian since 2010. After earning my MA in Library Science from the University of Iowa, my first library position was in Harvard, Illinois at the Jr. High School and the 3rd-5th grades elementary school. Our family then decided to move back to Iowa. We relocated to Latimer, Iowa where I served as the Teacher Librarian for CAL and Belmond-Klemme School Districts. Before becoming a librarian, I spent the first 18 years of my teaching career as a secondary English/Language Arts Teacher in Iowa. I love helping students read and use technology effectively.
I am so happy to help you with any library, reading, or technology questions. Let me know how I can help!