Welcome to the Cedar Falls Virtual Campus! My name is Tara Estep and I will be the administrator of the CF Virtual Campus. Below are several important pieces of information regarding the 2020-2021 school year.
*Virtual Learning: We are excited to offer this learning experience for our students this year! We have developed a K-12 virtual campus that will offer both synchronous (live) and asynchronous (recorded) learning opportunities. You can get a better sense of what this will look like by accessing the video here.
*Guidebook: Attached is a guidebook that will give you detailed information regarding the CF Virtual Campus.
*Elementary Teacher Assignments / Secondary Schedules: Teacher assignments and schedules will be released by August 19. If you have questions regarding your secondary schedule, please contact your building Counselor.
*First week Schedule: We will follow a modified schedule the week of August 24th. On Monday, August 24th and Tuesday, August 25th teachers will offer virtual check-in/orientation with students. Normal classes will begin August 26th.
*Elementary Input Conferences: We will offer virtual K-6 input conferences. Teachers will schedule these conferences with you the week of August 24.
*Materials: You will be provided a Cedar Falls issued iPad (K-2) or Chromebook (3-12) that you will pick up at your home school on Wednesday, August 19. More information regarding the pickup schedule for those devices coming soon. You do not need to purchase additional materials.

Virtual Campus Guidebook August 13.pdf
Thank you to our Partner in Education, Holahan & Boe Orthodontics.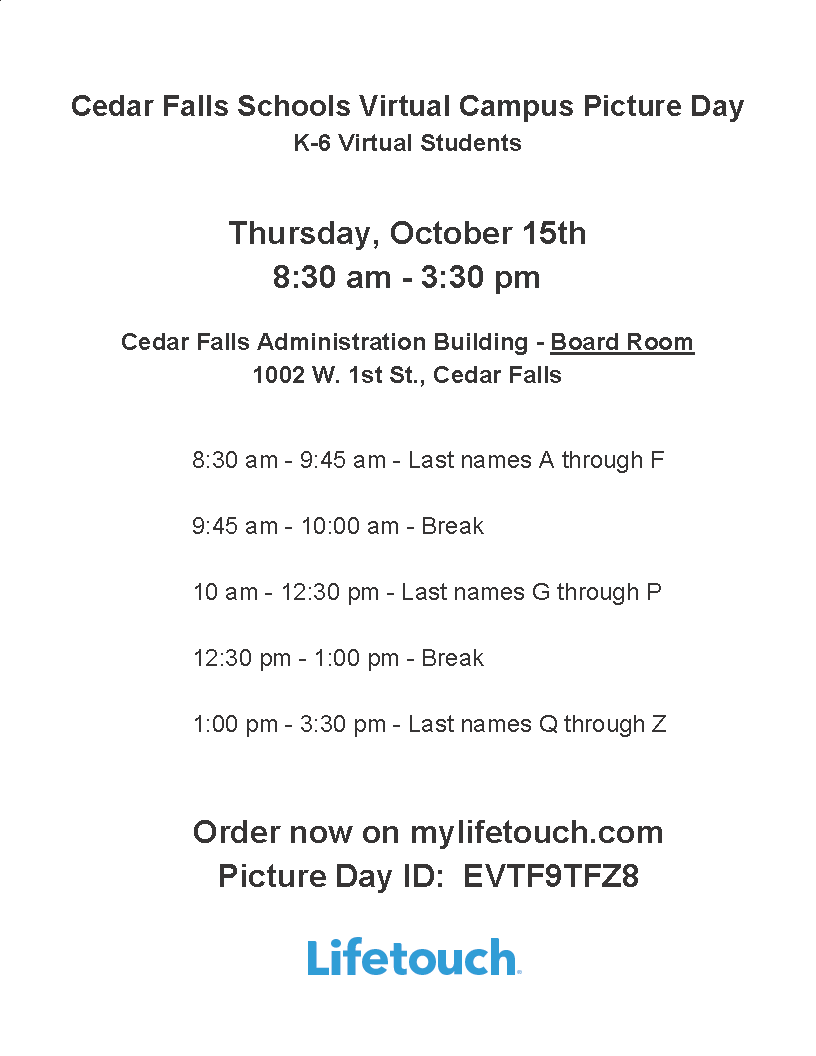 This Week at Virtual Campus
Wednesday
December 2

Day 3