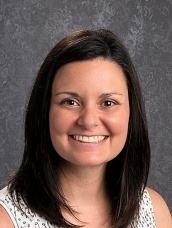 Name: Mrs. Emily Thilges, MSW (pronounced Til-jes, however many students call me Mrs. T.)
Degrees: I received my Masters degree in Social Work and then added the Professional Service License for school counseling from the University of Northern Iowa. My undergraduate degrees are also from UNI in Sociology and Family Services.
Experience: I have been the school counselor at Southdale Elementary for 6 years, and before that I was the elementary and middle school counselor in Denver, Iowa for 4 years. My passion for working with students began when I worked at Keystone Area Education Agency as a school social worker for 6 years, helping students with emotional and behavioral needs. 
Family: My husband, Leo, and I have 3 children, 2 boys and a girl. I am thankful to be able to go to school with my kids each day!
Favorite Hobbies: Our family loves to go hiking and fishing, we love to be outdoors. I enjoy reading, drawing, and cooking in my free time. Yoga is my favorite kind of exercise and I love to incorporate stretching and deep breathing in my classroom counselor visits. 
627 Orchard Drive
Cedar Falls, IA 50613
Follow Southdale Elementary