The District provides this data for families, staff and community members as a summary of lab-positive (active) COVID-19 cases and quarantines due to exposure to a positive COVID-19 case among students and staff.  Active cases are removed as people recover. Due to confidentiality, any level with fewer than six cases will not be identified to protect the identity of individual students and staff. We anticipate quarantine numbers to remain low since exposed students and staff are no longer required to stay home, regardless of mask usage, when not exhibiting symptoms.
The data is cross referenced with Black Hawk County Public Health and is updated every Tuesday and Friday.
The information below reflects the Positive Cases and Quarantine numbers as of 10-22-21.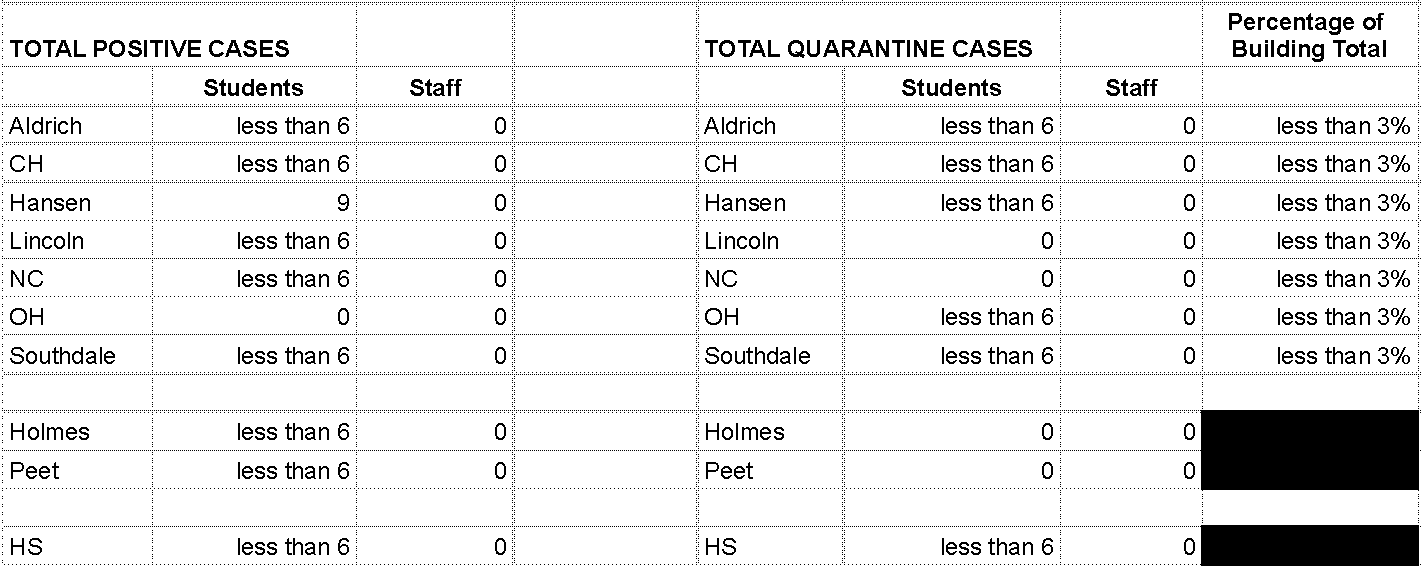 Starting Monday, September 27, if 3% of an elementary building's population, students and staff, are in quarantine (not just symptoms or an exposure) or test positive for COVID, we will announce a mask requirement for the next 5 days in that building. The one week mask requirement will help lower additional transmission of the virus and keep students learning in person.
3% was selected as it is well below the state requirement for reporting illness to the Black Hawk County Health Department which is 10%, and it is a number that is reasonable based upon District data from last school year. We still highly recommend face coverings for staff and students while indoors.
We will continue to monitor high and low risk symptoms in students and staff. This past week, several have turned out to be flu, RSV, or a cold. These and other such instances would not be included when calculating the 3% COVID metric.
This is only for elementary buildings, junior highs and the high school will continue to operate as they have been since the start of the school year.
Unless you receive an email specifically for your child's building, there will not be a mask mandate at your school next week. However, we do encourage the use of face coverings while indoors. Medical and religious exemptions may still be requested during the one week, were a building to go above the threshold.
Please continue to keep your child home if they are not feeling well as we work to remain with in-person learning during this pandemic.
Please also understand we may adjust quickly, as necessary, if numbers increase or changes occur in the ongoing legal debate.
Click here for additional information from Black Hawk County Public Health.